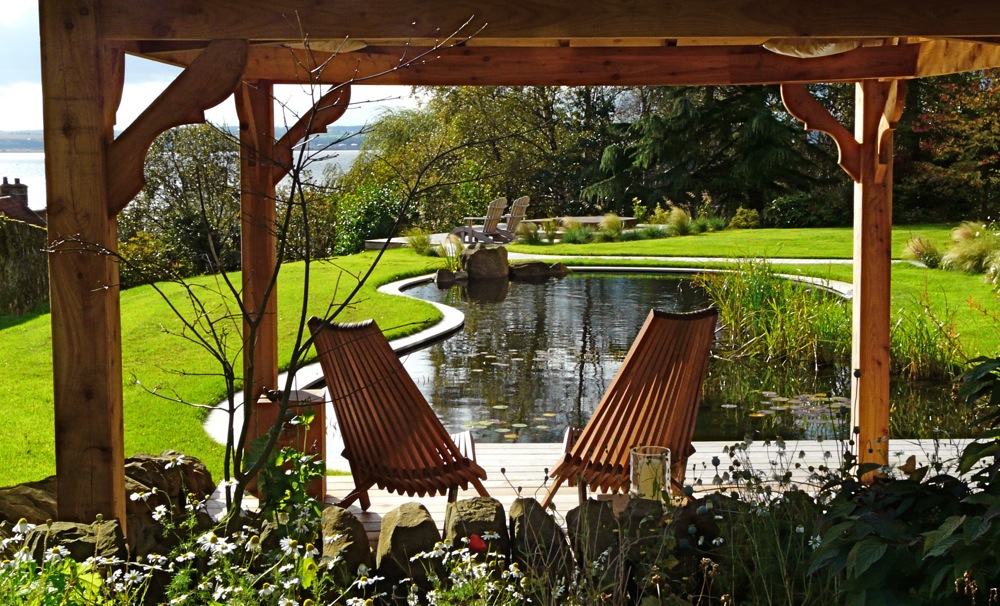 06 Feb

Blue-sky Thinking

Homes and Interiors Scotland Article

Gardens are wonderful… in theory. But add weeding, mowing, maintenance and ensuring the garden is inviting outwith our fleeting Scottish summer and this can be a very different matter.

This large Fife garden had a hot tub, an orchard and fabulous views of the Forth. The owners knew it had great potential but didn't know what to do next. So they made the inspired move to bring in Carolyn Grohmann of Secret Gardens who helped them make a wish list and tempted them with a little blue-sky thinking.

The design is contemporary whilst still being sympathetic to its surroundings. The reflective pool takes centre stage and sitting in the shelter of a timber arbour they can enjoy the amazing views. The construction was undertaken by Water Gems, who also created the pond and planted it with water lilies. The arbour has a Sedum roof and split level deck which feels like a jetty over the waters' edge. The perfect place to soak up the sun. By the hot tub the exceptionally comfortable chairs even have a handy paddle on each arm perfectly formed for resting a G&T. Just some of the clever thinking evident throughout the garden.

The hot tub is ideally located for star-gazing and is surrounded by grasses to create a veil of seclusion. A timber walkway keeps feet clean and avoids bits of grass finding their way into the tub. Such practicalities are important considerations. Also crucial to the design is the planting and Carolyn worked closely with her good friend, award-winning Billy Caruthers of Binny Plants, to create a haze of grasses and colour which flower throughout the season. Poppys and cornflowers provide excellent colour in the wildflower meadow and help bridge the textural gap between lawn and the woodland garden beyond.

It's not just the owners who are delighted with the results. The garden is alive with bees and insects buzzing away all season long, something which is very important to the wildlife-loving family who lives here.

Original article words by Judy Diamond.  Photos by Carolyn Grohmann.